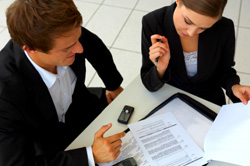 During a recent discussion on a Business Manager search I asked our client if he could detail the ideal candidate background for this position. He immediately asked why this was important, as he thought it was more important to discuss salary, benefits, our services, etc. So then began our discussion – which I thought I would share with you.
Show Me The Money
At the beginning and the end of the discussion it's all about money – more or less. More if the hiring manager can define the candidate background specific enough to enable a productive and profitable search result for the employer. Less if the hiring manager dismisses this effort at definition by telling the executive recruiter to "give it your best shot."
Why is it more? Thinking through the discussion I had with our client it became apparent to him at the end of our chat that there was a direct correlation to his ability to define the professional and personal background and characteristics of a candidate and the ability of the company to earn more money.
Read More